Our knowledgeable technicians can help you find the right engine oil for the track.
Every little detail counts when it comes to racing cars. Teams do everything they can to get an edge on their competitors, from streamlining their cars to choosing the optimal tires. Racecar engine oil is another essential factor for success, as the right engine oil can make a major difference in how well a racecar can perform. Here at Stoms Automotive, we understand the need to choose your engine oil wisely, which is why we offer a variety of engine oils to meet your needs.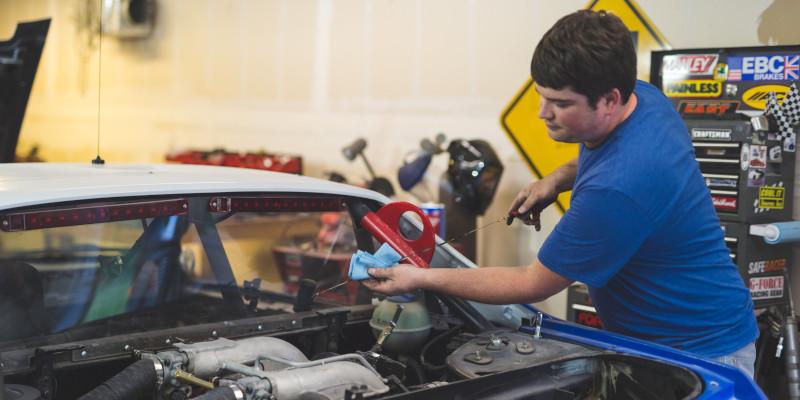 Extreme conditions are common in racecar engines, where parts are heated and run at high RPMs. Typical engine oils might not be able to handle these stresses, but racing engine oil is made for these more extreme situations. They can keep the engine running efficiently by reducing the friction between parts that move, as well as improving the horsepower and performance.
When cars race at high speeds, they create a lot of heat, which needs to be properly managed. Without sufficient racecar engine oil, the engine can get too hot and even break down completely. This is why there are chemicals in racecar engine oil that help absorb excess heat. The high-performance chemicals in racecar engine oil can also prevent sludge and varnish from forming. Since these contaminants can damage engine parts, preventing them can be a major benefit for racers.
Engines in racecars are put through a lot of stress, which can shorten their lifespan and make them less reliable. Advanced anti-wear chemicals are added to racecar engine oils to protect important engine parts like camshafts, bearings, and pistons. This means that the engine can last longer and break down less frequently.
When every bit of time counts, it's important to use the proper engine oil in the Middlesex, New Jersey area. If you're curious about this specialized type of oil, stop by and talk to our team today.
---
At Stoms Automotive, we offer racecar engine oil for customers from Middlesex, Green Brook Township, Bridgewater, Dunellen, North Plainfield, South Plainfield, Piscataway, Edison, Woodbridge, New Brunswick, Franklin, Somerset, and Raritan, New Jersey.