Our technicians can perform exhaust system repair on any make or model.
When a car runs, the engine beneath its hood produces several types of gases. These gases are known as emissions and may include nitrogen oxide, carbon monoxide, and nitrogen monoxide. Since some of these gases are harmful when inhaled, automotive engineers designed exhaust systems to prevent them from collecting in the cabin.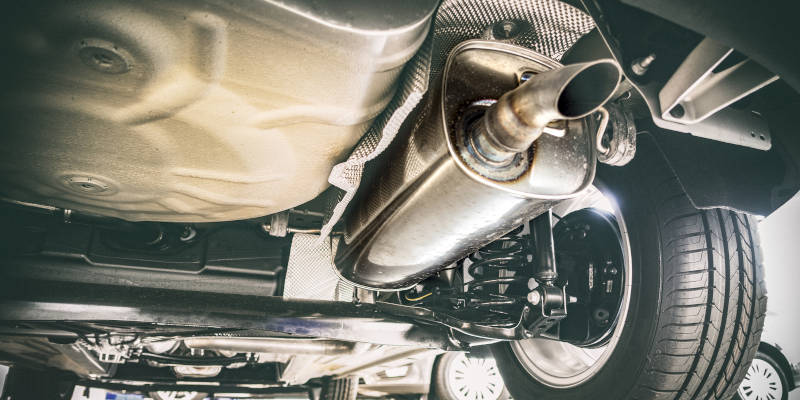 An exhaust system collects the fumes produced and removes harmful substances from them, then releases them away from the vehicle. Another function of this vital system is to muffle some of the excess noise produced by the car's engine and its other components.
A problem with your car's exhaust system can create a major issue for you and the environment. Some of the warning signs of an exhaust system that's in need of a repair include colored smoke coming from the exhaust pipe, rumbling noises in the muffler or exhaust pipe, and unpleasant odors.
Since exposure to harmful gases could be problematic for your health, it's important to have the system checked out and repaired as soon as possible. Continuing to drive a car that needs an exhaust system repair could threaten your safety and the safety of those around you. The vehicle also won't pass an emissions inspection when its exhaust system isn't functioning properly.
Our technicians at Stoms Automotive can perform exhaust system repair on any make or model. Our shop is conveniently located for those in Middlesex, New Jersey and the surrounding area. When performing an exhaust system repair, we'll make sure your vehicle is safe to drive before you get back out on the road.
---
At Stoms Automotive, we offer exhaust system repair services for customers from Middlesex, Green Brook Township, Bridgewater, Dunellen, North Plainfield, South Plainfield, Piscataway, Edison, Woodbridge, New Brunswick, Franklin, Somerset, and Raritan, New Jersey.